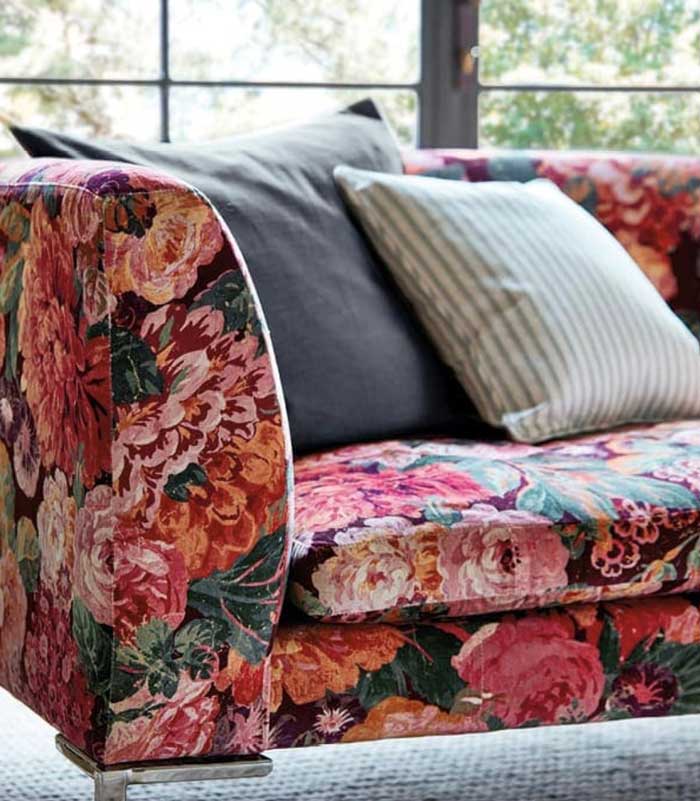 New season interior design trends
This week it's really felt like autumn has been in the air. As well as the prospect of pulling out the cosy knits from the wardrobe and snuggling up for the darker evenings, it's time for the launch of all the new season trends. If you're after some inspiration for your next upholstery project, here's a peek at a few of the style updates that have caught my eye…
Colour of the Year
Dulux has made Bright Skies – a pale blue – its 2022 Colour of the Year. Said to symbolise the return to freedom and reflect optimism, it's a real mood booster. Light, bright and visually breezy it's great to use in small spaces and even on a ceiling. It's a very versatile shade and if you're thinking of following the trend and painting your walls, you have a whole world of upholstery choices that will work with this. Throw in a pattern, contrast with a bright neon, or stay neutral for a calm, zen space. More than just a colour, it's a mood and perfect for a fresh start. I'm a fan.
Long live velvet
When the temperatures drop, the design houses love to wrap us up with a few cosier textures too. Velvet is going nowhere, and in fact, many manufacturers are embracing more and more velvet options into their ranges. You know I love it – practical, luxurious and increasingly affordable, it wins on every level for me.
Maximalism
I am loving the irreverent revival of archive patterns by big brand such as Sanderson. Think Victorian prints mashed up with a bit of retro 70s punk for this super-styled trend that is maximalist on every level. In fact, throw in a bit of art deco, some blowsy florals, big colours, strong fabrics… the message is more is more! Clash patterns, mix things up and layer every single element in a room.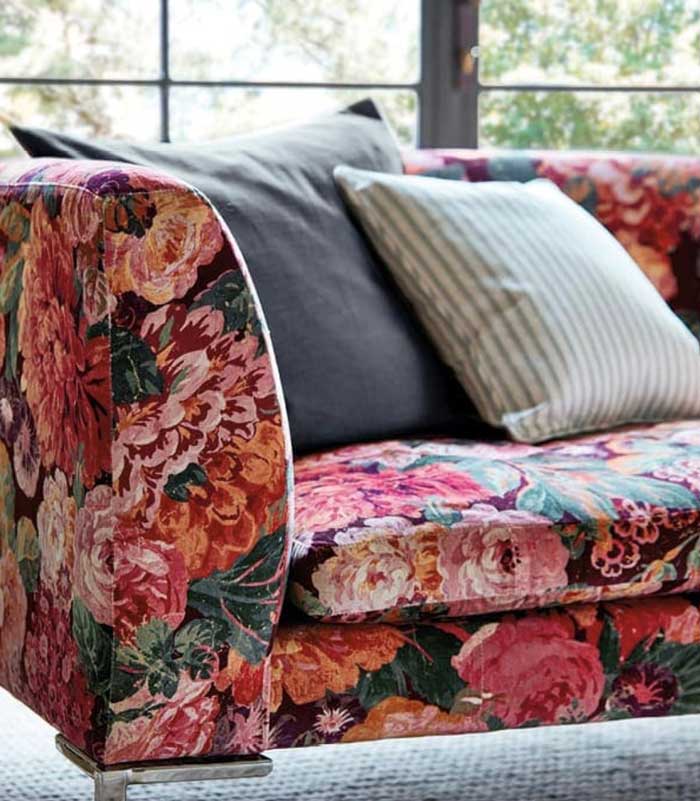 "No rules here, just make it as rich and opulent as you dare and most of all – have fun!"
This is not for the faint-hearted and you will have to be brave about intense colour and pattern. For anyone slightly frightened to venture into these realms, it can be quite full on. For success, try to keep it mainly tonal and have a theme or a thread that weaves through – whether that's one key colour or theme. No rules here, just make it as rich and opulent as you dare and most of all – have fun! Remember my mantra – life's too short for ordinary furniture.
Soft Industrial
This is a move away from the stripped back, raw New York loft interpretation of industrial. This take on exposed brick and bare lighting is countered with a softness which may come from luxe fabrics, a plush, opulent sofa or some deep piled cushions that you just want to sink into. If you still love the industrial look, adding in some softer upholstery will bring the look bang up to date.
Hello Yellow…
Yes! Not just reserved for spring, pops of yellow are going to be popping up this autumn – just like daffodils – everywhere. Beware, we're not talking huge statement walls here but more of an accent. Think you could live with a bright mustard, ochre or neon sofa? Why not! Otherwise, use it for some scatter cushions, a pop of piping or in accessories like lampshades and vases.
…Goodbye grey
And while we're talking about this season's hottest shade, how do you feel about finally saying goodbye to grey? I can't say I'll be sorry to see the back of it as warm neutrals replace this over-saturated shade – hooray! This season, embrace stone, pebble and taupe as your base but do not go grey! No more Scandi minimalism, it's more of a modern farmhouse vibe that will be winning you style points.
Let's hear it for Handmade
Block printed fabrics, painted furniture and self-styled décor have always been around but seem to be on the rise this season. A word of caution – these handmade touches are great in small doses but don't go overboard. If you're a dab hand with a pot of paint, try some stencilling, or otherwise, what could be more personalised than reinventing one of your items of furniture with upholstery?
Back to Nature
Nature has become as likely to be seen inside our homes as outdoors these past couple of years. Sales of houseplants are booming, botanical prints are here to stay and we're seeing a real surge in nature in fabric design too. Dreamy floral velvets in fantastical dreamscape designs have caught my eye, alongside more classic and elegant interpretations of the English Garden both from Linwood Fabrics. Whether you're a nature lover or not, this trend is not going away and if you've not already chosen it in your home, it's an easy to live with look that will grow on you. I promise.
Has that taster inspired you to get going with a new season project? Drop me a line for an initial, no-obligation quote by filling in the online contact form. Alternatively, you can email me directly at sharon@vintiqueupholstery.com or call me on 07764 182 783.
Stay up to date
Keep up to date with the latest upholstery news and trends, delivered directly to your inbox.