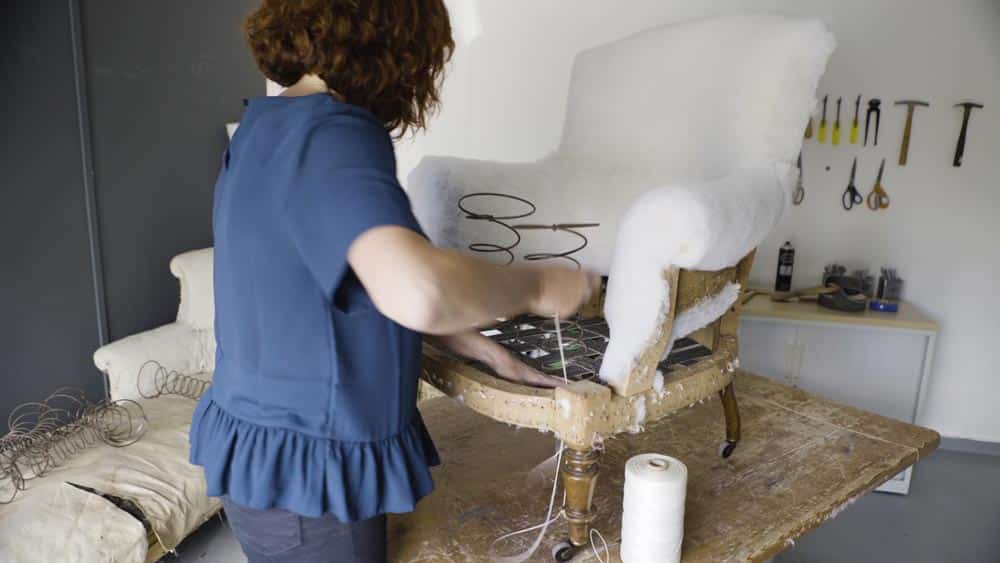 The ultimate guide to upholstery supplies & sundries
Springs, stuffing's, coverings, linings, webbing… There are all kinds of upholstery supplies, sundries and materials you'll come across – even at a basic level. The list can seem endless and slightly overwhelming, so I thought it might be useful to talk through the basics. Choosing the right materials for the job is all part of the art of a perfect finish.
Linings
Calico
This is perhaps the most traditional upholstery lining. Using calico before you get to your top fabric means you can check the tension, practice your cuts and assess the comfort of your project. It also helps to keep the dust out of seat pads and prolong the life of the upholstery. In short, lining with calico gives a superior finish to your work.
Hessian
Hessian is used for pretty much all upholstery projects – modern and traditional. It comes in different weights and is applied over springs and the arms, backs, and seats of small chairs. It can also be used as a bottom cloth.
Scrim
Linen scrim is a loose and open-weaved fabric used for traditional upholstery. Fine and yet incredibly strong, it is used on the top layer of the stuffing.
FR barrier cloth
This flame retardant wool felt interlining will ensure, if required, that your upholstery meets the current British Standards. This wool / felt blend is inherently fire retardant – rather than treated with any chemicals – and is used as a barrier fabric under fixed upholstery fabric that is not fire retardant. The lining goes between the upholstery fabric and furniture base to comply with British Standards. But beware, it's not suitable under all fabrics. Depending on their composition, some fabrics will need to be treated by the supplier separately to make them fire safe.
Bottom cloth / liner
A 50% cotton / 50% polyester fabric is used on the base of chair seats where a cushion is used and / or on the underside of the chair to neaten and act as a dust barrier. It also conceals the interior of the piece to create a professional finish.
Webbing
Webbing is the foundation of all good, upholstered furniture. This strong, closely woven fabric is used for supporting seats, back and arms of upholstered chairs. I've listed out the main ones below.
Black and white webbing
Also known as English webbing or herringbone webbing, this superior upholstery webbing is made from jute and cotton in a strong twill weave. It's perfect for seats and projects that need strong support.
Jute webbing
Not as strong as herringbone webbing, this webbing is stretched over the back, arms, and wings of furniture frames.
"Choosing the right materials for the job is all part of the art of a perfect finish."
Elastic webbing
Elasticated webbing is supplied in various strengths, which allows you to choose the appropriate tension-type for the purpose required (i.e., for a seat of a chair or a chair back or arm). Its adaptability means that it can be produced with a firm or soft feel or support, depending on your preference.
Pirelli webbing
Pirelli webbing is made of natural rubber and held in place with wooden dowels or metal clips usually fixed into grooves. It can also be fixed directly to a wooden rail with tacks or staples if there are no grooves. Pirelli webbing is nearly always used on Ercol furniture.
Springs
Chairs and sofas are never complete without the springs inside them that give them their comfort. Upholstery springs are fixed under the seat and sometimes in the back and on arms to soften the cushions.
Cone springs
Cone Springs are used throughout upholstery and good quality modern furniture.
There are various gauges (thickness) of wire you can use depending on the project:
9 gauge (3.65mm) is used for chair and sofa seats.
10 gauge (3.25mm) is used for dining seats, small chair seats and sofa backs.
12 gauge (2.64mm), the thinnest, is used for sofa and chair arms.
Zig Zag springs
Zig-zag seat springs are used for modern sofas and chairs.
Tension springs
Plastic Coated Tension Springs are commonly used on Parker Knoll furniture amongst other types of chairs.
Stuffings
Foam
Upholstery foam is a group of flexible polyurethane materials of different grades and thicknesses that are sold in sheets, starting at 1/4" inch (quarter). It comes in different colors, which refer to the different densities.
Blue foam and chip foam are the densest and hardest, which makes them perfect for footstools and headboards, then the foam decreases by density and is therefore softer. The density of the foam is one of the most important factors in determining the comfort and lifespan of your project.
Rubberized hair
A blend of coir (coconut husk) horsehair and natural latex, set in rubber to form sheets one inch thick.
Coir fibre
Coir, or coconut fibre, is a natural fibre extracted from the outer husk of a coconut, perfect for a first stuffing layer and also used to fill seats and arms in traditional upholstery.
Animal hair
The most commonly used hair in upholstery today is 100 percent pure animal hair (80% pig / 20% horse mane). It;s very soft and good to work with and is perfect for your second layer of stuffing.
Polyester wadding / Dacron
This synthetic cotton wool comes in a sheet form in 27" and 54" widths and a variety of weights. The heavier the weight, the thicker the wadding. It can be used in its thinnest as a skin wadding between the lining and top fabric, or over foam furniture before applying your top fabric. It's also used as a wrap over foam cushions.
Cotton wadding
White cotton felt is a ball of natural layered wool and cotton felt, also known as white felt / flock. It is used for upholstery seat and arm padding, wrap-around spring cushion interiors, and the final stuffing layer to prevent fibre filling / horsehair from coming through. It is used in most antique furniture restoration work.
Thinking of learning the craft of upholstery?
Sign up for my total beginner's guide Virtual Vintique: Upholstery Uncovered and take the first step towards seeing if learning upholstery could be for you.
If you need help with an upholstery project, drop me a line for an initial, no-obligation quote by filling in the online contact form. Alternatively, you can email me directly at sharon@vintiqueupholstery.com or call me on 07764 182 783.
Stay up to date
Keep up to date with the latest upholstery news and trends, delivered directly to your inbox.